[Day 18]
Early start to get to the bordercrossing between Uzbekistan and Tajikistan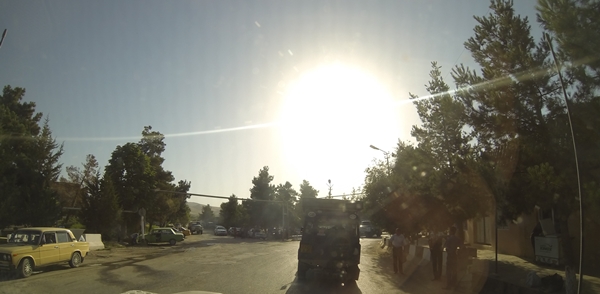 Arriving after dark last night, we had no idea what a beautiful landscape we were driving in. The roads had been pretty bad last night, and continued to be for a while also today, but the stunning mountains made us forget about that (at least in-between the bumps and pot holes that hit really hard).
We got to another police checkpoints, and were told that the road we were taking to the border was closed – we had to go a long way around – more than 100 km extra. Atle and Tim looked disappointed, kept asking, and then suddenly spotted the finger sign for money! There was a solution, but it had a cost – $10 – and we were finally allowed to keep going. Part of the road had been washed away, so big lorries (and probably foreigners) were not meant to go there, but it worked out well for us!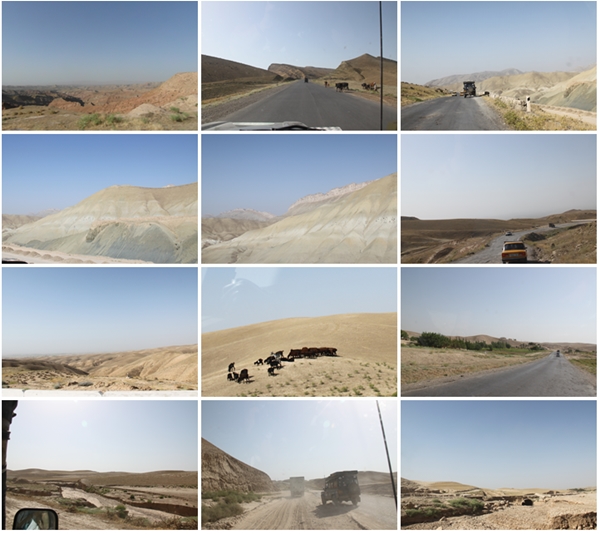 Uzbekistan seems much more diverse and with more green oasis than the parts of Turkmenistan we saw. Drove through a village as we were getting closer to the border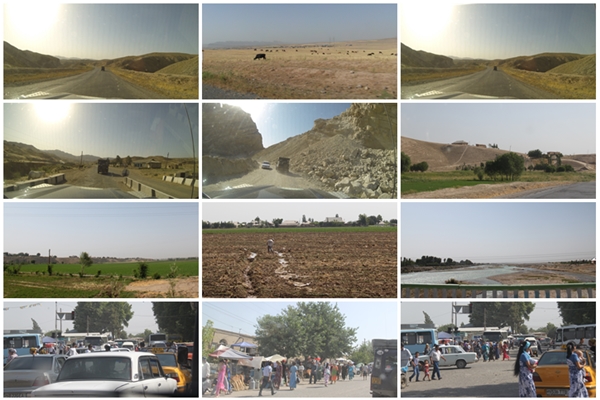 This border crossing was the most cheerful one so far! Both the people working and those traveling through were smiling, talking to each other and to us. We spent appr. 3 hours getting through to Tajikistan, a long time, but all the time with someone helping (no lunch breaks like in Turkmenistan).


After the border, we only had 50 km to Dushanbe, and we had picked out Hotel Tajikistan as a possible place to stay. It turned out to be much more expensive than we had expected, but it was also very nice (and UN had a meeting there, and we took that as a good sign), so we decided to stay. And that was the most clever thing we did this day! We still had to get the GBAO permit you need to drive through Pamir (you apply for this permit together with the visa, but the company helping us in Norway used a Tajik embassy that could not give the GBAO permit), and we knew we could get it in Dushanbe. Information online said it took between 3 minutes and a day, but at the hotel, they said 3 days! We only have visa to Tajikistan for 7 days, so that would not work out. We kept asking for solutions, changing the visa or any other way to fix it. The man who helped us took Tim and Atle to the office for GBAO permits – and came back 30 minutes later with permits for both of us! We also had our first proper dinner in a long time – a nice meal at a Lebanese restaurant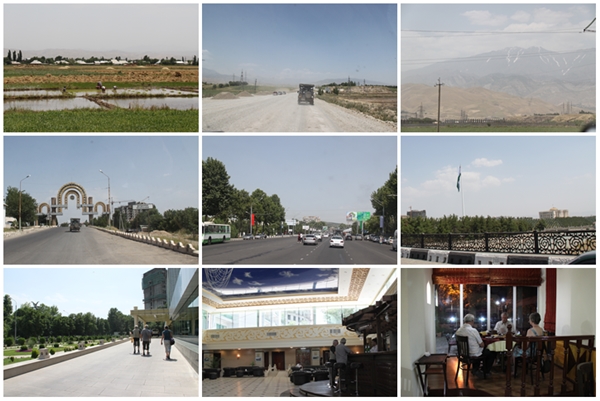 Photo Gallery:
See all plus additional images from this day. Click to see a larger image and slideshow